Hosting costs
If you do not have your own hosting provider, Centimedia charges £30 per year to host your website.
This includes an available domain name of your choosing (.org, .com, .eu, .net, or similar), and email addresses of the form name@your.domain. Such email can be accessed via your web browser, or forwarded to addresses of your choosing.
Setup costs
Standard personal/project website
For a flat fee of £650 you will receive the following:
Website consisting of up to five pages, 2500 words of content, plus 50 references. Content (e.g., career overview or project description) will be based on the materials you provide: CV, grant applications, links to existing homepage(s), and so forth. References typeset in your desired format, and hyperlinked to their online equivalent or to downloadable PDF preprints you provide. If you supply edited content instead of raw materials, far more content can be included for the same price.
Website styled and organized after your choice. Images you provide will be used, downloadable content you provide will be hyperlinked; navigation buttons in location and style you choose, fonts and colours of your choosing; ... . You will receive a mockup where you can indicate what you want to be altered: e.g., font sizes, image positioning, or hyperlink colouring.
CSS-based website styling and layout completely separated from clearly-written HTML content. This means you can easily update content yourself, if you wish, without causing an inconsistent appearance.
One year of monthly updates. Each update is budgeted at 40 minutes of editing layout and/or content, plus a backup. Updates can be divided into weekly or combined into trimestrial updates, both having distinct advantages: more work gets done in a larger block of time, but announcements want to be put online as soon as possible.
Plus-sized personal/project website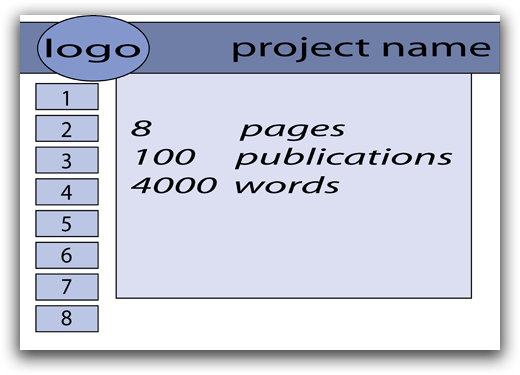 For a flat fee of £900 you will receive a website as above, but:
Website content consisting of up to eight pages, 4000 words of content, plus 100 references.
One year of twice-monthly updates. Each update is again budgeted at 40 minutes of editing, and can be divided or combined per unit of 10 minutes.
Custom or existing website
If you have special requirements like an integrated blog, multilingual text, content management (CMS) or others, please describe your needs carefully and we will discuss them by email, telephone or Skype video call. I will check if there are problematic restrictions due to your chosen hosting setup (e.g., no scripts allowed on many institutes' personal homepages), and find out if we can resolve them.
If you have an existing website that you would like to be rewritten, I will carefully study it and advise you whether to restart from scratch or to alter the existing content, and propose a budget for both options.
Maintenance costs
Extra years of updates can be bought at £250 for twelve monthly updates budgeted at 40 minutes each.
Custom work
If you need your existing website updated, for example on an institute's CMS-mediated system (e.g., TerminalFour in the UK), please contact me with a description of the work and we can budget the amount of work required.
Such editing work, as well as other custom work like image manipulation and illustrating, will be undertaken at £30 per hour or less.
The design of a logo typically comes to £100–400, depending on how complex your request is, and how clear you make your preferences: ideally the first version needs maybe just some tweaking of the colour scheme, instead of parts being endlessly added, removed, altered and/or restored.
The illustrations shown on the Graphics page have all stayed below the £400 limit, and the graph shown above them was under £50: Given precise specifications, little communication and few versions are needed, saving both parties a lot of precious time.